DIAMOND POWER LEGGING / POWER
DIAMOND POWER
The Future Technology of Compression
Most of the tight-fitting garments on the market was made by elastic fabrics, laminating tapes, silicone printing, and other traditional technologies to provide tightness and pressure on body tissues in order to reduce muscle vibration.
However, these traditional types of tight-fitting garment cause uncomfortable and unbreathable feeling. It does not improve sport performance.

Rema DMP technology provides support and partial pressure at each leg muscle area. With an integrally forming design, it focuses on supporting hips, knees, and legs, and fully presents the different pressure in each area. Besides, having the innovative features of the seamless design, the friction is reduced and the comfort is fully improved!

Innovative Tech is to Minimize the Disadvantage of Sport on Muscle
The unique diamond pattern designed according to muscle shape is to reinforce pressure and restrain muscles. The perfect rhombic frame and lines are linked to the key areas of the legs, giving the hips, legs, and knee support. This is a great evolution of sport compression with no traditional sewing segmentation design, only use a single functional fabric to create support and reinforced pressure.
Rema Diamond Power retains the existing coverage of compression legging, but improves the function for more support, comfort and breathability.

Muscle Activation
By using the DELSYS wireless EMG system, we have collected data on muscle activation of the gluteus maximus, rectus femoris, semitendinosus, tibialis anterior and gastrocnemius muscles by test subjects.
EMG signal when not wearing compression garment
EMG signal after wearing compression garment
Note: The sampling frequency is set to 2000Hz

Scientific Proof
After twenty athletes run 10km each person, we compare Rema DMP with a well-known sport company, 2XU. Here's the result of Rema DMP.
-EMG signal shows a lower frequency, it means that muscle only need a lower power to complete the experiment with the speed and distance.
-Blood Lactate Clearance Rate is 11% higher.
-Delayed Onset Muscle Soreness is reduced up to 42%.
-Fabric compression at each muscle area is higher.

MUSCLE ACTIVATION
By using the DELSYS wireless EMG system, we have collected data on muscle activation of the gluteus maximus, rectus femoris, semitendinosus, tibialis anterior and gastrocnemius muscles by test subjects.
COMPARISON OF COMPRESSION
Comparison of compression levels between Rema and major global compression garment brands.
STUDY ON LACTATE LEVEL CHANGES
Compared with conventional compression tights, the clearance rate of lactate while wearing this product is up to 11% faster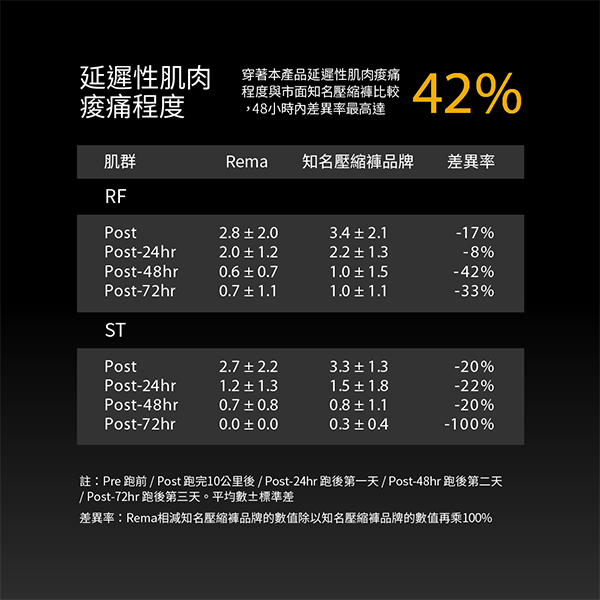 THE DEGREE OF DELAYED ONSET MUSCLE SORENESS (DOMS)
Compared with other well-known compression garment brands in the market, the degree of delayed onset muscle soreness (DOMS) when wearing this product is as high as 42% within 48 hours.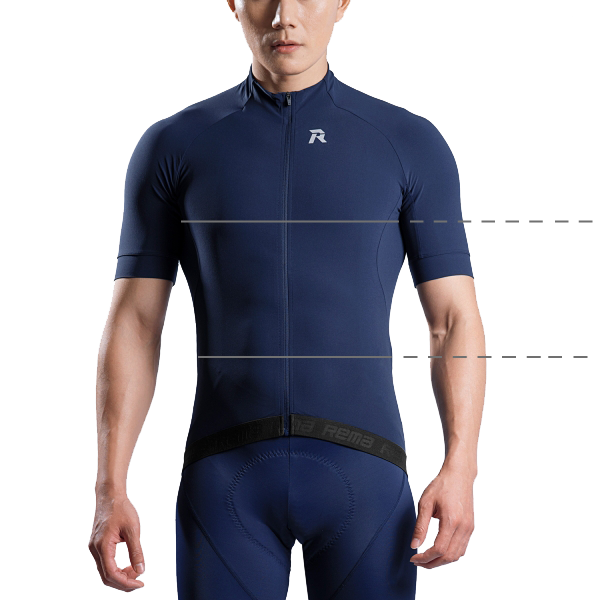 Bust
Measure the highest part of the chest.
Waist
Measure the smallest part of the waist.
Finding the Right Size.
The waist(chest) size is an additional option, you can get the exact recommended size.
Fabric Composition
Main fabric
48% NYLON | 28% POLYESTER | 24% PU
Product Care
Wash separately from dark colors
MTP010P

DIAMOND POWER LEGGING / POWER
Newly added Rema Multitask 1.0 Patent that can hold smartphones and energy bars/drinks.

POWER Version- Strengthen the thickness and diamond pressure pattern, it is
suitable to be worn in 5 to 24 degree Celsius.

THE WORLD'S FIRST / Rema Patent
Diamond pattern technology is inspired by the combination of muscle texture and mechanical stress.

Newly launched POWER Version not only enhances the pressure value at muscle area, but also expands the pressurized area. Its unique patented technology and fabric material completely distinguishes all brands of compression pants on the market. The diamond polyester cube in POWER Version provides restraint and stabilization on muscle movement during muscle swing amplitude. It does not affect the sweat dehumidification function at all. Even if it is wet in the rain, the DMP technical structure still works perfectly.
Added
DIAMOND POWER LEGGING / POWER
US$ 135