XYLITOL COOLING JERSEY
New Technology, Unparalleled Value
We are fully invested in the innovative power of textiles, and are rewriting our best creations since the launch of Rema cycling tops.
Professional cycling, redefined.

Smart Cycling Sportswear
The more you sweat, the cooler it gets
We have opted to use fabrics that have been treated with xylitol additives along the headwind side. When the fabrics come into contact with perspiration, it induces a cooling effect which produces a refreshing wearing experience. Rema's limited-edition garments with printed decorations are full of ingenuity. The printing inks, design cuts, and sewing are all top-notch and processed to the highest standards, presenting you with a unique high-quality piece you can enjoy wearing.

One sportswear, two temperature control zones
The ultimate functional product requires precise heat dissipation design. It extends from the side, shoulders, to the core zone in the backside. There are thousands of micro pores to discharge the heat. The heat dissipation can also induce ventilation airflow while maintaining personal comfort, so that you can continue to exercise in an optimized state.

蜂巢式結構技術
六角蜂巢結構使面料輕盈強韌,提高汗水與木醣醇成分作用效率,快速產生涼感。
全新改良的剪裁與合身度
考量騎乘姿勢調整最佳合身版型,打造俐落質感。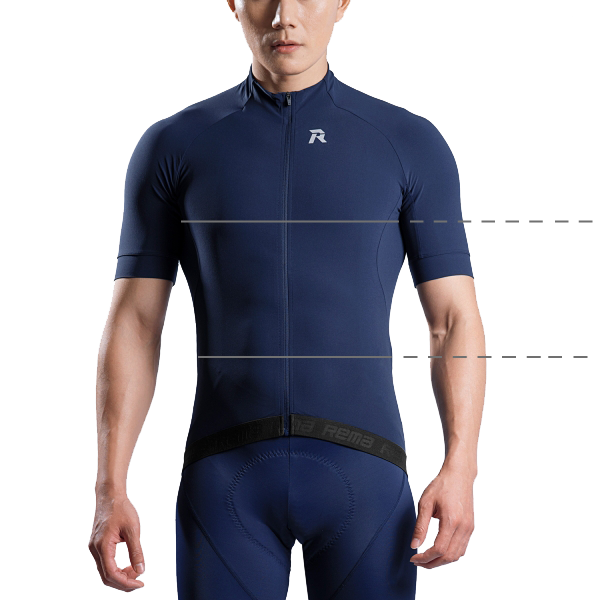 Bust
Measure the highest part of the chest.
Waist
Measure the smallest part of the waist.
Finding the Right Size.
The waist(chest) size is an additional option, you can get the exact recommended size.
面料成分
配布
90% Polyester 聚脂纖維 | 10% LYCRA® 彈性纖維
配布
55% PU 防水材質 | 45% Polyester 聚酯纖維
WCT013

XYLITOL COOLING JERSEY
For the new season, we've adopted the use of honeycomb fabric design for the headwind side with a full-length microporous breathable fabric on the back. The garment is soft to the touch, and with the added xylitol cooling effect of the fabric, the cycling top will leave you with an unprecedented riding sensation.

With a newly redesigned structural foundation, we revised our cycling shorts according to an ideal riding posture, so that wind resistance is minimized and fit is comfortable. For the new season, we have adjusted the length of our performance line of cycling tops to a slightly shorter fit, which can reduce the arching of the zipper during a ride. The improved rear pocket design will not be burdened by weight, but become more stable and reduce the sense of load.

Added
XYLITOL COOLING JERSEY
US$ 91