XYLITOL COOLING JERSEY
New Technology, Unparalleled Value
We are fully invested in the innovative power of textiles, and are rewriting our best creations since the launch of Rema cycling tops.
Professional cycling, redefined.

Smart Cycling Sportswear
The more you sweat, the cooler it gets
We have opted to use fabrics that have been treated with xylitol additives along the headwind side. When the fabrics come into contact with perspiration, it induces a cooling effect which produces a refreshing wearing experience. The limited edition pieces have decorations depicting the energy flow of the universe, which we hope will channel positive power to people across the world.

One sportswear, two temperature control zones
The ultimate functional product requires precise heat dissipation design. It extends from the side, shoulders, to the core zone in the backside. There are thousands of micro pores to discharge the heat. The heat dissipation can also induce ventilation airflow while maintaining personal comfort, so that you can continue to exercise in an optimized state.


HONEYCOMB STRUCTURE TECHNOLOGY
The hexagonal honeycomb structure makes the fabrics light and hardy and allows for better xylitol performance when in contact with perspiration to quickly keep you cool.
EXTRA BREATHABLE AND COMFORTABLE
Light, breathable, microporous fabrics can release heat, bring in airflow and maintain decent ventilation.
REVAMPED POCKETS WITH EASY-TO-SLIDE ZIPPERS
Are fitted with sturdy YKK zippers and vapor-dispersing soak-proof polyurethane (PU) membrane lining. The outer decorative reflective prints will make nighttime riding extra safe.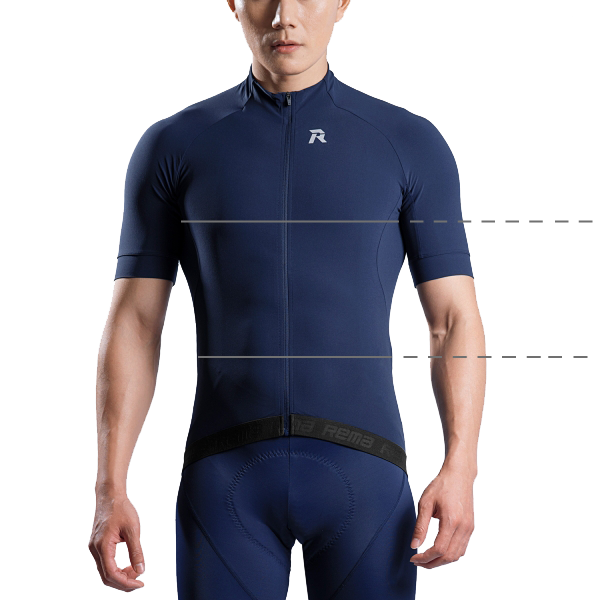 Bust
Measure the highest part of the chest.
Waist
Measure the smallest part of the waist.
Finding the Right Size.
The waist(chest) size is an additional option, you can get the exact recommended size.
Fabric Composition
Main fabric
100% Polyester
Accessory fabric
90% Polyester|10% EA(LYCRA®)
Accessory fabric
55% PU|45% Polyester
Product Care
Wash separately from dark colors
MCT013

XYLITOL COOLING JERSEY
Why have we designed this?

Riding on a sizzling hot day, the best thing to do is to choose a moisture-wicking jersey that will keep you cool. Featuring exclusive limited-edition designer prints, the Xylitol cooling fabrics have a highly effective heat dispersion property to allow you extra comfort during your summer rides. Its functional cut, short in the front and long in the back, makes you feel more comfortable and secure.
Added
XYLITOL COOLING JERSEY
US$ 55