RACING JERSEY
New Technology, Unparalleled Value
We are fully invested in the innovative power of textiles, and are rewriting our best creations since the launch of Rema cycling jerseys.
Professional cycling, redefined.

To become a benchmark in industry,
we pay attention to every detail and never compromise.
You have probably never seen such a flat and delicate high-tech fabric. The patented hi-tech fabric used on the headwind side has half the thickness of conventional warp-knit fabrics, which greatly improves the soft and refreshing wearing experience. Ultra-lightweight, comfortable fit, and quick dry performance are three key pillars Rema focuses on in selecting the highest quality fabric for cycling sportswear.

One sportswear, two temperature control zones
The ultimate functional product requires precise heat dissipation design. It extends from the side, shoulders, to the core zone in the backside. There are thousands of micro pores to discharge the heat. The heat dissipation can also induce ventilation airflow while maintaining personal comfort, so that you can continue to exercise in an optimized state.
完美貼身的接袖設計
平整的優異材質搭配接袖設計讓肩線完美服貼,降低騎乘風面風阻。
更輕量、更透氣、更舒適
輕盈透氣的微孔洞面料導出熱氣,同時引進氣流,維持通風舒適。
點綴式反光
於口袋兩側以增加夜間騎乘安全辨識,口袋拉鍊採用堅固YKK易拉拉鏈。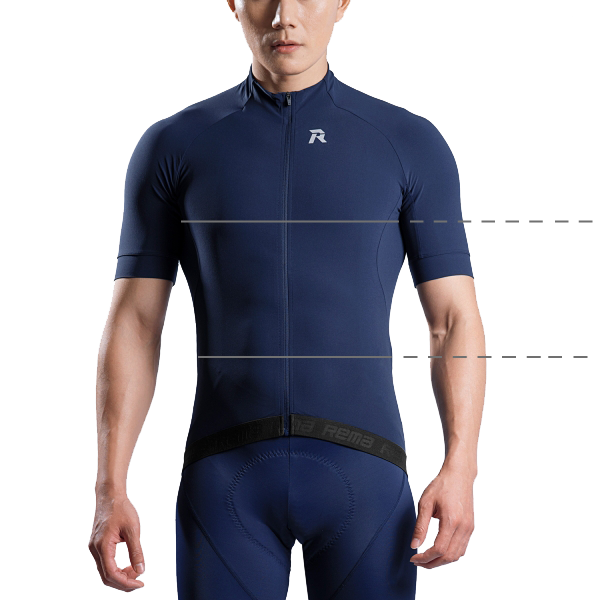 Bust
Measure the highest part of the chest.
Waist
Measure the smallest part of the waist.
Finding the Right Size.
The waist(chest) size is an additional option, you can get the exact recommended size.
面料成分
主布
73% Microfibre PA 超細緻尼龍纖維|27 % EA(LYCRA®) 彈性纖維
配布
90% Polyester 聚脂纖維|10% EA(LYCRA®) 彈性纖維
配布
55% PU 防水材質|45% Polyester 聚酯纖維
With a newly redesigned structural foundation, we revised our cycling shorts according to an ideal riding posture, so that wind resistance is minimized and fit is comfortable. For the new season, we have adjusted the length of our performance line of cycling jerseys to a slightly shorter fit, which can reduce the arching of the zipper during a ride. The improved rear pocket design will not be burdened by weight, but become more stable and reduce the sense of load.
Added