LIGHTWEIGHT RUNNING TOP
When exercising, your activewear top needs two characteristics:
irresistible comfort, and an irreplaceable you!

The use of high-density double-sided knitted and lightweight fabric prevents the tops from becoming sultry and uncomfortable due to it being extremely thin and lightweight. The fabric can effectively control the amount of sweat accumulated in the clothes and reduces the discomfort caused by the skin when it becomes wet, while also minimizing the breeding of microorganisms. The laser punched ventilation pores on the side and rear of the top allows for excellent breathability and rapid dissipation of heat. This is a key design feature of Rema activewear tops and will always remain this way.

Each piece of clothing is made from five recycled plastic bottles. Rema appreciates your contributions in supporting a sustainable earth with every purchase you make.

LASER PUNCHING TECHNOLOGY APPLICATION
Arrange for the hot zone of the human body, to increase ventilation and accelerate heat transfer away from the body.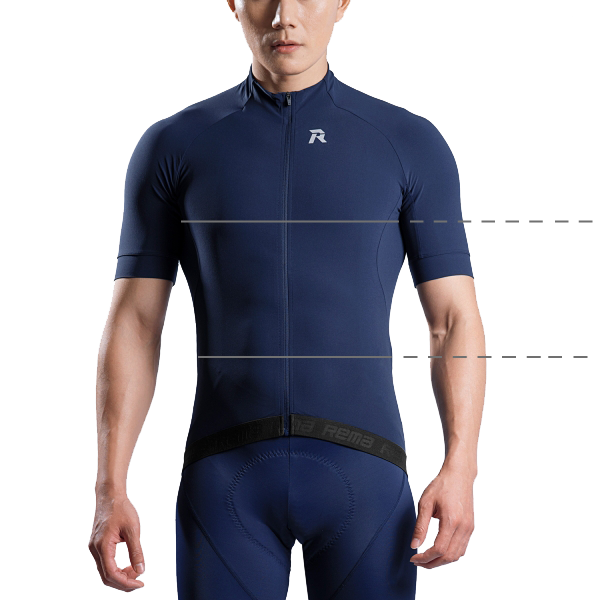 Bust
Measure the highest part of the chest.
Waist
Measure the smallest part of the waist.
Finding the Right Size.
The waist(chest) size is an additional option, you can get the exact recommended size.
Fabric Composition
Main fabric
100% Recycle Polyester
Product Care
Wash separately from dark colors
MRT018

LIGHTWEIGHT RUNNING TOP
Why have we designed this:

To bring you hassle-free training, Rema has designed a range of running tops made with super lightweight eco-friendly fibers, combined with laser perforation for the side and rear panels. They weigh less than 80g per piece and will make your daily training extra light and cool.
Added
LIGHTWEIGHT RUNNING TOP
HK$ 165